SCHOOL OF VERTICAL DANCE AND SOMATIC LEARNING (2020)
The School of Vertical Dance and Somatic Learning is a development program of the Art Organization Histeria Nova, which is divided into three program directions / modules:
Somatic movement residences for professional vertical dancers from the EU and the world
Vertical dance workshops for beginners
Artistic collaborations
INFO
The first Summer School of Vertical Dance and Somatic Learning was held from 7 to 11 July 2020 under the leadership of Portuguese dance artist Magalie Lanriot, organized by Marija Šćekić and Histeria Nova. The main rigger, and collaborator/partner, was the British rigger and choreographer, David Greeves, artistic director of the Yskyna Dance Company of Cornwall (UK). The program consisted of a vertical dance workshop for beginners (group A) and for professional vertical dancers (group B) with an additional three professional lectures held at the Visitor Center Underground City of Paklenica National park and in the multimedia hall of the Rector's Palace in the City of Zadar.
The day before the start of the workshop, a welcome meeting was held in the multimedia hall of the Paklenica National Park for all participants and associates of the program, where Dr. Gordan Lukač, Head of the Paklenica National Park Protection Department, Ms. Marjana Marasović, Director of the Starigrad Tourist Board and Marija Šćekić, head of Histeria Nov and organizer of the Summer School of Vertical Dance 2020. The meeting discussed the history of cooperation between Histeria Nova and Paklenica National Park and the future vision of cooperation in creating a residential program as a permanent cultural and tourist offer of the Park.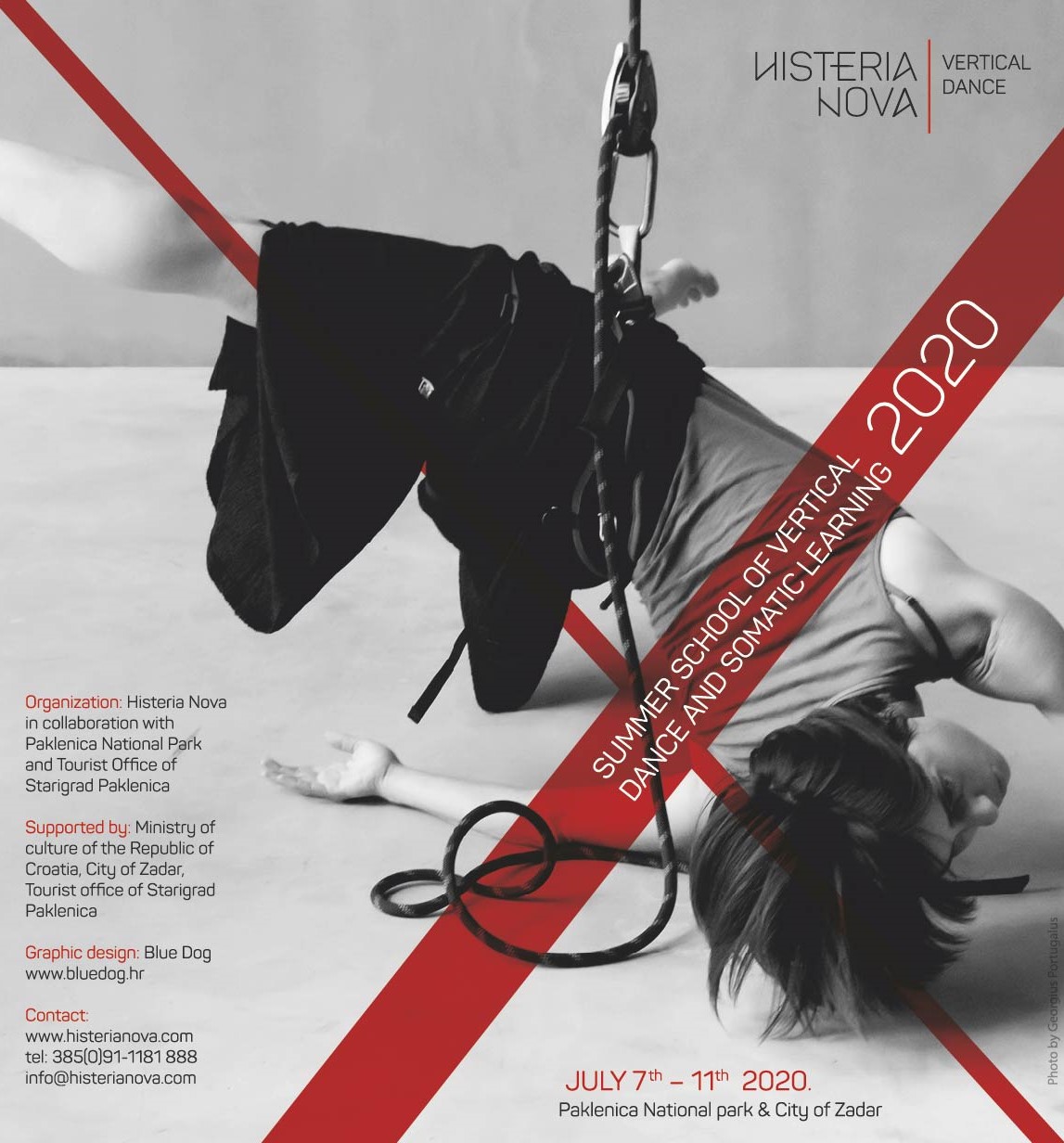 During the 5-day workshop, participants were provided with a Free Day with an optional program in the form of a half-day trip (tour of Manita Peć accompanied by a Park ranger) or a full day trip (tour of inaccessible parts of Velebit accompanied by licensed guides in 4x4 field Jeeps).
The last two days were spent on the Square of Five Wells, ie on the walls of the Captain's Tower in Zadar, with the ubiquitous general public who received a free insight into the creative process of learning vertical dance technique as part of a city tour. For safety reasons, David Greeves has elaborated a detailed study on building protection measures as well as workshop attendees and dirt from the roof as well as various vegetation and weeds have been removed from the tower wall surface.
One of the most important aspects of the program is the realization that there are certain damages on the building that have been reported to the Conservation Society and the Ministry of Culture of the Republic of Croatia as they represent a potential danger of some future landslides or damage. Vertical dance is an art that, in addition to ensuring the dancers, must also guarantee the insurance of the building where the workshop is held, so it is important that this knowledge does not go unnoticed to the responsible and competent institutions.
VIDEO
REVIEWS
DOWNLOADS
IMPRESSUM
Dance teacher: Magalie Lanriot
Main rigger: David Greeves
Assistant riggers: Denis Silov, Franko Bilić, Antonia Dorbić
Participants: Lucija Zalović, Nikolina Marić, Petra Rajić, Ema Toman, Tina Novak, Margareta Šarkanji, Melita Bezjak Spahić, Pere Vilarrubla, Carine Lepeytre, Ella Cocset, Rebekka Gather, Natalie Berlinger
Organizers: Marija Šćekić (Histeria Nova), Dragica Jović (NP Paklenica), Marjana Marasović (Tourist Board of Starigrad Municipality)
Producer: Histeria Nova, 2020
Sponsors: Ministry of Culture of the Republic of Croatia, City of Zadar, Tourist Board of the Municipality of Starigrad
GALLERY